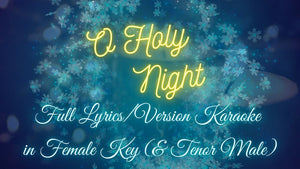 ---
🎄One of my favourite Christmas song, O Holy Night . . A sacred exquisite song & I love it! Enjoy, Singing~  Find more songs to sing at Singers Stage here~   [ Chords & Lyrics ] IntroGsus/D D7 D7/C      G/B C13       G/D   D7sus4 D9 G Verse 1G        G/B          C                          G
O holy night the stars are brightly shining             G/B             C/D   Am/D    G  C/G D/G   It is the night of my dear Savior's birth G                  G/B        C                    G
Long lay the world in sin and error pining            Bm/F#                    F#7sus  F#       Bm
'Til He appeared and the soul       felt its worth  
   Am7     D7           G                   Gsus4 GA thrill of hope the weary world rejoices       Am7     D7          Gsus4     G                    D/F#
For yonder breaks a...